Dr. Tyler Armstrong
Dr. Tyler Armstrong began working at Platte Woods Animal Hospital ever since he was old enough to lend a helping hand. Throughout his childhood and adolescent years, he helped Dr. Armstrong and the staff in many ways, including cleaning the kennels, helping with building maintenance, restraining animals for treatments, and observing Dr. Ron Armstrong practice medicine and perform surgeries.
Tyler attended the University of Missouri from 2007-2015. He earned a bachelor's degree in Biology with a minor in Chemistry in 2011, and earned his doctorate degree in veterinary medicine in May of 2015. He began as an associate veterinarian at Platte Woods Animal Hospital in June of 2015. His interest areas include theriogenology (reproductive services), dermatology, dentistry, preventive medicine, and surgery.
During his free time, Tyler enjoys reading, playing sports, and hiking. He has been married to his high school sweetheart, KateLynn, for 3 years, and has 4 fur children- Bucca,  Alfred, Kiki, and June. Tyler and his wife welcomed their first child in October 2016, a little girl they  named Mara Lynn. They could not be happier to be sharing their love for animals with the next generation of Armstrong.
Dr. Ron Armstrong
Dr. Ron Armstrong graduated with his doctorate in veterinary medicine from the University of Missouri in 1982. He began his career as an associate veterinarian at Desert Inn Animal Hospital in Las Vegas and worked there until 1992. He and his family moved back to Kansas City in 1993 and Dr. Armstrong purchased Platte Woods Animal Hospital. The wonderful new building that we are in today has always been a dream of his and we are so happy it has finally become a reality. It was through lots of hard work and dedication that he has been able to build the practice to what you see today.
His areas of interest include theriogenology (reproductive services), dermatology, and orthopedic surgery. During his free time, Dr. Armstrong enjoys hunting, training his German Shorthaired Pointers, and spending time with his family. He and his wife, Nancy, have two sons, 3 grand-daughters, and several very spoiled German Shorthaired Pointers. Dr. Armstrong has a passion for his bird dogs and enjoys training them to become NAVHDA Invitational Champions.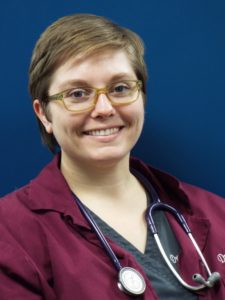 Dr. Stacy Krumme-Schaeffer
Dr. Schaeffer graduated from the University of Missouri Veterinary School in May of 2015 with Dr. Tyler Armstrong and they are excited to get the chance to work together again. After graduating Veterinary School she did an internship at the University Of Missouri Columbia in Food Animal Medicine. She has been with the practice since 2016 and has been a wonderful addition to the PWAH family. She truly has a passion for Veterinary Medicine. 
Dr. Schaeffer grew up in the Kansas City area just a few miles from the clinic and is very happy to be back serving the community that she grew up in. Dr. Schaeffer and her husband, who is also a veterinarian, enjoy being outdoors and working at building a farm for their 3 dogs, 2 cats, and multiple sheep. She is also very close to her family and excited to be working so close to them. 
Dr. Keith Longhofer
Dr. Longhofer has worked at the clinic on and off over the years. He joined the clinic as a part time Veterinarian early in 2018 and we are so excited to have him back.